Regan House & Fieldstone Fence at Scout Valley
Published September 11 2013
To finish up my series of photos from Scout Valley in Orillia, here is a short post covering The Regan House and The Fieldstone Fence honouring the pioneer families of the Orillia area.
The history of the Regan House, from the Orillia Packet & Times:
"The 33-by-23-foot home, built of squared-pine timbers, was originally located on the crest of Westmount Drive where the new Shoppers Drug Mart is now located and housed Patrick Regan, his wife, Catherine, and their 10 children from 1845 to 1911. The structure, thought to be Orillia's oldest pioneer home, was dismantled in 2006 and sat in pieces in an outdoor storage unit until it was decided that it would be rebuilt at Scout Valley next to the heritage stone wall. Now complete, the Regan House was opened to the public on Sunday for people like the Howes to come explore. Harvey was impressed with the size of the logs that make up the home and marvelled at how men in the 1800s would have been able to construct such a house. 'You don't see big trees like that anymore,' he said."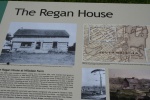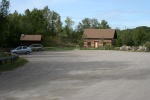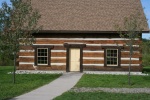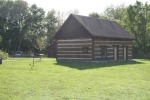 The Fieldstone Fence was put together to demonstrate how the earliest pioneers used the large rocks left over after they cleared the fields of timber to build fences around the field. Names of the local pioneer families were carved into the largest rocks. I have taken photographs of a few of them. There are more. All the names are listed on the plaque. I have made the full-size image of the plaque large for you to read it.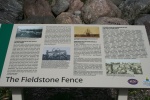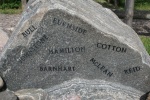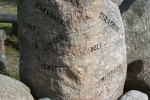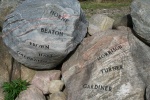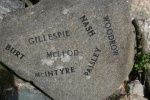 My wifes' family is associated with the Beaton and Bull pioneers, and I recognize many names from my public school and high school days. You should stop by and walk the fence sometime, it's quite interesting.
You can see the rest of my Scout Valley photographs at Picture Tour of Scout Valley Orillia and Nature in the Late Summer. Thanks for stopping by!
Randall Hawes
---