Published September 9 2013
About me ...
The hardest thing for anybody to do is write About Me, isn't it? I am who I am. I'm not going to offer up anybody else except me, whom you will have to take with a grain of salt. I am an introvert, a big-picture thinker, a researcher, a problem-solver. A grandson, a son, a husband, a father. A professional driver of light and medium-duty trucks, an Accounting Bookkeeper, a multiple business owner (successful might be stretching it). I have already been through most of my life, having been born a few years after the end of World War II. Yes, I'm a Boomer.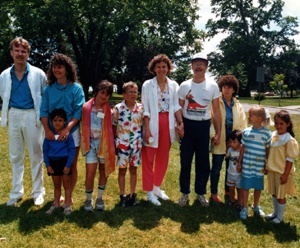 I love this photograph. Others in the photo do not love it so much, but I do. This was taken at Couchiching Beach Park in Orillia, circa 1983. From the left, brother Dan, sister Sherry with nephew Mark in front, nephew Mike, nephew Rory, sister-in-law Helen, dork, wife Charlotte with #1 son Brian, niece Jenna-Lee, niece Janine. Missing is my little sister, Julie.
That's me with my favourite dinosour-at-bat T-shirt and Sticky's cap. Don't hurt yourself laughing. (I still have one of those caps tucked away in its' own little box, in pristine condition.)
So, as of this date, this photo is just over 30 years old. My how time flies.
By that time in my life, excluding childhood, I had already lived in Orillia ON, Barrie ON, London ON, Calgary AB, Whitby ON, and back to Orillia ON. There were more moves to come.
from Home to Beyond and Back - The Life And Times Of A Traveller
I hope you enjoy my stories, articles, opinions and and just plain fun stuff. Don't forget to check out the Archives. Thank you for being here.

Randall Hawes
---