Journey Back Home
Originally published May 18 2012
The previous two posts on this blog covered some situations that we encountered once we were back home. Now I'd like to recount the actual trip that we undertook to get back here. The trip had its' moments!
I know I'm skipping between "I" and "we" a lot. This occurs because I am telling the tale of the trip we took. So, there it is.
We at first thought we might hire a moving company to carry our goods and drive our van across country. But when their 'estimates' came in equal to or more than the cost of a U-Haul + fuel, we decided to go the U-Haul route. I'm a driver, and I've driven cars, van with trailer, and a 5-ton truck across the Trans-Canada Highway before, and I wanted to do it again.
This is our journey:
Day 1 - Courtenay BC to Abbotsford BC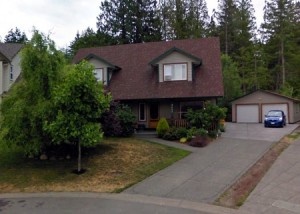 We went to the U-Haul place and picked up the truck. We lucked out big time - it was almost brand new and was larger than the one we had ordered! This would prove fortuitous because we had more stuff than we thought. Doesn't that always happen!
We started loading at about 10am and finished around 3pm. We then went down to the U-Haul place to latch on the tandem car-carrier trailer and load our Caravan onto it. We then did sort of a circular spin around the central core of Courtenay and then hit the highway for Nanaimo. We wanted to catch the 7pm ferry for the mainland.
After paying $285.00 for a 35 km trip across the Salish Sea, we drove onto the ferry and reached the mainland just before 10pm. The drive on the Trans-Canada through greater Vancouver was uneventful, until we reached the highway construction before the new Port Mann bridge. It was reduced to 2 narrow lanes with concrete barricades on both sides, no shoulder. Of course, with the combination of an under-powered, fully loaded truck pulling a trailer and me going a little slower because I wasn't familiar with the vehicle or the road, everybody was passing me, including big rigs! I was white-knuckling it big time! However, we made it through and started the straight stretch for Abbotsford.
Just after 11pm, I pulled off the highway in Abbotsford, one bridge too soon. So there we are driving around town, looking for the damn hotels that I know are there, the wife getting more pissed off by the second, when I finally realize I had to go east one more bridge. Sometime after 11:30pm we checked into the new Super 8 Hotel in Abbotsford. Nice room! Great service! It was a long day.
Day 2 - Abbotsford BC to Golden BC
We didn't get away from Abbotsford until around 9am, which was OK because then we missed the rush-hour traffic on the Trans-Canada. We stopped for fuel in Hope and then hit the Coquihalla to go over the summit, heading for Kamloops. That's when the fun began!
There is a transmission control switch on the newer U-Haul trucks called 'haul'. You are supposed to turn it on if you are towing a trailer. So, I turned it on. Everything was fine going up to the summit. Slow, but fine. Then we started going down. The engine was acting as a brake for a time, but then I had to put my foot on the brake to slow down. As soon as I did, 'haul' dropped the transmission down a gear. Holy Crap! The engine was screaming. I was terrified to touch the brake pedal again. I didn't know if I could turn 'haul' off while in motion. We were gaining speed. I touched the brake again lightly, and luckily it didn't drop down another gear, but the engine screamed all the way down.
We bypassed Merritt and went straight to Kamloops, where I stopped and experimented with the 'haul' control switch a little. Turns out, you can switch back and forth while moving, so that solved that problem. I soon cottoned on to the fact that you use 'haul' while in city traffic, and turn it off on the highway. We carried on, saw a big rig accident (caused by a four-wheeler, I'm sure) just past Salmon Arm, stopped in Revelstoke for a bit, then went over the Rogers Pass without incident, pulling into Golden around 7pm. We checked into the Super 8 because the Abbotsford one was so nice. The Golden one was not. Live and learn!
Day 3 - Golden BC to Swift Current SK

Morning in Golden, which is on Alberta time. I woke up and was sure it was after 6am. I made Charlotte get up because I wanted to cover as much ground as possible this day. We were supposed to be in Shilo Manitoba early afternoon the next day. We get dressed and go out to get breakfast. I remarked that it seemed awfully dark for 6:30am, it was weird. Turns out, it was 5:30am! And none of the restaurants were open yet, except the good old Husky. Once again, the wife was pissed off! I still remind her of this from time to time. She calls me names.
So we set off from Golden, got through the construction on the Trans-Canada, do the hairpin turns and come to one of the most beautiful sites in all of Canada. An engineering marvel! The new Kicking Horse Bridge. You really have to drive over it to get the true feeling, but this picture might help.
This is looking east coming from Golden. It is a long, long, long way down from that bridge deck to the river below. Just gorgeous. You must make the drive some time. It is worth it!
We carry on, passing through Banff National Park. Absolutely breathtaking. Then the Trans-Canada levels out and we're trucking towards our once-upon-a-time home of Calgary. With no time to spare, we pass on through Calgary and cruise all the way through Alberta, arriving at Swift Current early in the evening. We took our chances and checked into the Super 8. Very nice! Charlotte got to go in the pool, which was bonus points for me, and they had an excellent breakfast room with big screen TVs. Quite enjoyable.
Day 4 - Swift Current SK to Brandon (Shilo) MB
Here's a little video of "Morning in Swift Current", showing our rig. You can just barely see Charlotte sitting in the truck, already reading her book. She doesn't like driving across the country.
Heading out, cruising east on the Trans-Canada, we stop at Moose Jaw (over the decades, we've ALWAYS stopped at Moose Jaw), and carry on through Regina, rolling into Manitoba in the early afternoon. Then we hit them. Powerful thunderstorms! Lightening! Pounding rain! The sky was jet black. And suddenly, as we approached Brandon, the skies cleared.
We made it onto CFB Shilo just after 4pm. Oldest son Brian and his new bride Kristy made us a delicious BBQ dinner. We found an empty parking lot on the base to park the rig and had a wonderful visit.
Day 5 - Shilo MB to Kenora ON
We were originally going to stay at Brian's through Day 5, but we were due at our youngest sons' in Sault Ste Marie early on Day 7. I started calculating how far it was and how fast we could get there, and decided I needed a head start. So we called ahead and made a reservation at a hotel Brian suggested in Kenora and set off down the highway once again about 3pm, arriving at our hotel around 7pm.
It turns out, the hotel was on the far east side of Kenora, and there weren't any restaurants, just a KFC and a McDonald's. Charlotte was none too happy. She detests both of them. Eventually she decided that MickeyD's was the lesser of two evils, and in we went. Happily (pun intended), she was content with her salad and cappuccino frappichino thingy drink. We finished up and I absent-mindedly wandered out the door. What a surprise I got!

So here's the setup. It was late, and dark. I came out of that door on the right, crossed the drive-thru and stopped on the concrete walk to wait for Charlotte. Something moved in my peripheral vision and I looked to my right. A big black bear was standing right at that garbage can, this side of where that red car is. Yikes!! A healthy young adult, beautiful coat of fur. I quickly turned and walked back inside, exclaiming "There's a bear out there!" All the employees ran over to the drive-thru window and looked out. One guy says "Oh ya, they come around all the time trying to get in the garbage cans."
A car pulled in the lot and started flashing the high beams at the bear, slowly forcing it back up into the treeline. The bear finally ran up into the trees, and we went across the lot to our hotel room. Our rig was parked around back of the hotel, up against that treeline. Later that night, Char asked me to go out to the truck and get something for her. No way! I wasn't going back out there in the dark! Exciting times.
Day 6 - Kenora ON to Schreiber ON
After all the excitement the night before, it was an uneventful day driving across Northern Ontario. We went through Dryden, many hours later passed Thunder Bay, Nipigon and stopped in Schreiber for an early supper. We were hoping to make it as far as White River that night, or at least Marathon. Unfortunately, events in other peoples' lives brought our trip to a dead stop for that day.
An hour before we got to Schreiber, a high speed police (OPP) chase went through town, heading east. They were after some yahoo who was leading them on a merry chase. They raced through Terrace Bay, going towards Marathon, when the yahoo crashed his car into a rock face and killed himself. So, the highway was closed down for the rest of the night for the big investigation. We couldn't go east. We checked into this old, old motel in Schreiber where we had eaten our supper. I think that motel had its' busiest night in a long, long time that night! Quite a few people stayed there.
Day 7 - Schreiber ON to Sault Ste Marie ON
We had farther to drive this day than we had planned, so I put the pedal to the metal and hung on to the steering wheel for dear life. We were crawling up one hill, which curved to the left, revealing this beautiful panorama of Lake Superior. I pulled the rig off to the wide shoulder (I guess a lot of people pull over there) and got out to shoot some film. Or, put some 1's and 0's on the hard drive. The video of the lake scene is on my YouTube channel, if you want to see it. But here is a few seconds of Charlotte getting out of the truck, and my attempt to film the very red rock face along the highway.
We rolled into Sault Ste Marie around 4pm and stopped to stay overnight with our youngest son Drew and his girlfriend Dana. Once again, we were served a marvelous supper that Drew made! It was delicious. We had a very nice stay. It was hard to leave the next morning. But we had to get the rental truck and trailer unloaded and returned to U-Haul.
Day 8 - Sault Ste Marie ON to Alliston ON
Our last leg. I had made this trip many times through the decades. Not much has changed up there! I recognized all the little towns we drove through. We went right into Sudbury to get food and fuel, not taking the bypass.
While we were driving along on Lorne Street, I think, there's this flat deck truck ahead carrying a forklift, the kind with the big tires. I guess a chain broke or came loose, and the forklift started falling off the shoulder side of the flatdeck. And the guy didn't stop! The forklift toppled off the deck and I guess one chain held on, so there's sand and stones flying everywhere from this forklift being dragged along the shoulder. Finally the guy stopped. Boy, did he have some 'spainin to do, Lucy!
We carried on, stopping in Parry Sound, then stopping at Charlottes' parents in Orillia for supper. Setting off on the highway once again, we arrived in Alliston as the sun was setting, welcomed by our good friends, Nancy and Tim.

The next morning, Day 9, I backed the Caravan down off the trailer, we unloaded the truck, and returned them to U-Haul. We filled that garage, front to back, to the roof with all our stuff! We stayed here for 6 weeks.
A continuation of the story can be seen in this post and then this post. There is more still to be written.
Stay tuned
Randall Hawes