Only Women Bleed
Published September 18 2013
I was very fortunate to be able to attend an Alice Cooper extravaganza (I was going to say concert, but that doesn't come near describing the event) at Casino Rama this past July 2013. What a fantastic show! Highly entertaining. Alice (more formally known as Vincent Damon Furnier from Detroit, Michigan) is still going strong at the current age of 65, backed by a superb group of musicians. I was especially impressed with Oriathi Panagaris on lead guitar. Wow! Just, wow. If you ever get a chance to go to one of his shows, make the effort, even if you think you don't like his music. It is a fun event. The Nurse is just hilarious.
But I digress.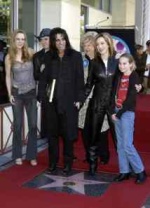 My favourite Alice Cooper song is Only Women Bleed from the hit 1975 album Welcome To My Nightmare. It reached #1 on the Canadian RPM National Billboard Chart, and #12 on the U.S. Billboard Top 100. However, it reached those heights with the title "Only Women". Why? Because it carried the misconception that it was about menstruation, which it is not (although it is a brilliant play on words), and because of protests from feminist groups, if you can believe it. The song is about abuse of women, spousal abuse, which is something that Alice Cooper (Vincent) is totally against. In spite of his on-stage show and reputation, he is a family man. He has been married to the same woman since 1976 and they have 3 children.
Anyway, I was sitting there enjoying the show, all the while thinking "When are they going to play Only Women Bleed?". About 2/3'rds of the way through I realized that they weren't going to perform it. As the show progresses, you can sense the flow, the theme, and I eventually knew that Only Women Bleed wasn't going to fit. I was disappointed, but still thrilled with the overall performance.
Here is a video of the song, just one of many that you can find online. I'll print the lyrics beneath. You can decide for yourself what the message of the song was, and what it means to you. Enjoy!
Man's got his woman to take his seed
He's got the power - oh
She's got the need
She spends her life through pleasing up her man
She feeds him dinner or anything she can


She cries alone at night too often
He smokes and drinks and don't come home at all
Only women bleed
Only women bleed
Only women bleed


Man makes your hair gray
He's your life's mistake
All you're really lookin' for is an even break
He lies right at you
You know you hate this game
He slaps you once in a while and you live and love in pain


She cries alone at night too often
He smokes and drinks and don't come home at all
Only women bleed
Only women bleed
Only women bleed
Only women bleed
Only women bleed
Only women bleed
Only women bleed


Black eyes all of the time
Don't spend a dime
Clean up this grime
And you there down on your knees begging me please come
Watch me bleed


Only women bleed
Only women bleed
Only women bleed
Only women bleed
Only women bleed
Only women bleed
Only women bleed
Randall Hawes
---