And Here I Am Writing About It
Originally published September 14 2010
As of this time and date, this is the latest release on TED.com:
The main crux of the talk centers around this fact:
Reading and writing are fairly recent innovations in the history of man, but face-to-face communication has been honed over millions of years. We, all of us, you and I, have learned to acquire and distribute knowledge, information, news, culture, through print. When the first printing press was invented, the spread of knowledge began. Now, with the advent of online video, the acquiring and distributing of knowledge, information, news, culture, is once again a face-to-face communication to millions of people, thousands of miles away, almost instantaneously!
And here I am writing about it, and you're reading about, instead of making a video and posting it online so we can have face-to-face communication! Maybe we should get with the times, eh?
Randall Hawes
Contact me:





NAVIGATION:
BROWN PAPER TICKETS
is the Fair Trade ticketing company. No matter where you are, begin your search for a night on the town!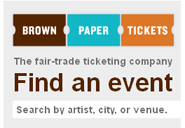 With 24/7 phone and web sales, Brown Paper Tickets is the smartest way to buy your tickets for your date!