Wishing All A Happy New Year
Originally published December 30 2009
2010
Have you been waiting for 2010? Does it mean something special to you? After the previous ten years that we have all lived through, I know I can say with some accuracy that most of you are hoping against hope that 2010 brings better times in general. There will still be strife, poverty, death. There will be calamities both man-made and natural, there will be tragedies. But overall, if you're thinking like I'm thinking, 2010 with its'' nice round numbers brings hope and optimism for the future.
Technological change is going to be the dominant force in our lives to a far greater degree than in the past. It's going to explode. It will be difficult to keep up with all the changes, but we better try because it is going to change society as we know it, just as the advent of fire, the beginning of agriculture, the invention of money, the Industrial Revolution, have already changed society in the past. But those changes were over millennia. The coming technological boom will be measured in segments of months, if not weeks. Information flows so fast now, reaching billions almost instantly, the "time of change" will become shorter and shorter.
I have some predicitons for the times ahead, but will save them until next year. ;) Those of you still doing Multi Year Business Plans, you're wasting your time.
Exciting times ahead! Hang to your hats. We're wired for sound now.
Randall Hawes
Contact me:





NAVIGATION:
BROWN PAPER TICKETS
is the Fair Trade ticketing company. No matter where you are, begin your search for a night on the town!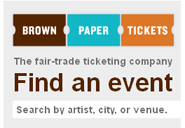 With 24/7 phone and web sales, Brown Paper Tickets is the smartest way to buy your tickets for your date!