Just For The Record
Originally published May 23 2010
From SortMusic.com:
Stefani Joanne Angelina Germanotta (born March 28, 1986), who performs under the stage name Lady Gaga, is a singer, songwriter and musician from New York, U.S.A.. She began her career as a songwriter for some of pop music's biggest stars, including Fergie, Pussycat Dolls, Britney Spears and New Kids on the Block, as well as American singer and producer Akon. After Akon recognized that Gaga also had vocal talent, he signed her to a joint deal with his own label, Kon Live Distribution, and then she started to work on her own new material for her debut album.
The rest, as they say, is history. I'm a male Boomer, and I think she's one of the best things to happen to the music industry in a long time. Keep it up Gaga! Yer doin' good.
Randall Hawes
Contact me:





NAVIGATION:
HOME
BROWN PAPER TICKETS
is the Fair Trade ticketing company. No matter where you are, begin your search for a night on the town!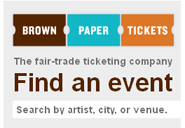 With 24/7 phone and web sales, Brown Paper Tickets is the smartest way to buy your tickets for your date!