Vancouver Island Business: Comox Valley
Originally published September 2 2010
The most important businesses in any community are those that bring money from afar into the community. You could try to pin down where 'afar' is, but it would be difficult. For the purpose of this essay, let's say that 'afar' is further than a one day drive from where you are located, which in this case is the Comox Valley, Vancouver Island, British Columbia, Canada.
The other businesses, institutions and organizations who don't bring fresh money in are going to insist that they are important too .. and they are! .. but for the most part they just recycle money that is already in the community. And in many cases, they export large amounts of money out of the community. Certainly, there needs to be trade with outside sources, but the money flow can't be all outbound. That only leads to community destitution.
To build wealth (and I'm talking about overall community wealth), outside money must be brought in and kept in the community. So, businesses that do this are extra special important. With this article, I want to shed some light on those extra special important businesses that are here in the Comox Valley. If I overlook anyone, please let me know and I will add them straight away.
The resource industries - fishing, forestry, mining - were instrumental in building the local economy in the past, and while they are still significant today, you could make the argument that they are declining in overall importance. They do bring money into the community from afar, but the product is finite .. the fish stocks dwindle, the good timber is all cut down, the mine depletes. None of these resources are immediately or easily replaceable, if at all, so I'm not going to count them in the equation.
So, whom and/or what does bring in money from outside the community, and keep most of it here in the Comox Valley, on an ongoing, renewable, non-destructive basis?
I want to mention the businesses that I feel fit into these categories and who have a significant impact on the economy of the Comox Valley. As I said above, if I inadvertently miss someone, please let me know. These lists are random. No scaling of importance is intended.
TOURISM & CONFERENCES
FOODSTUFF
MANUFACTURING
TRANSPORTATION
NOTES
Under the Manufacturing category, I did run across some micro-businesses who do export from the Comox Valley - aromatherapy products, emu oil (who knew?), specialty crafts, boats, etc - but I wanted to concentrate on the larger drivers of the economy. Micro-businesses are very important, but don't fit the criteria for this post. The dearth of "exporting" non-foodstuff manufacturers is a problem for the economy of the Comox Valley.
In the Transportation category, I waffled on whether to include the BC Ferry service at Little River (Comox). It is a transportation hub service that connects the Comox Valley to the mainland of Canada. The only problem is, once across to the "mainland" on that route, one still has to board two more ferries in order to get off the coast and drive inland. It's obviously faster and cheaper to drive down to Nanaimo in order to be connected to the mainland.
SUMMARY
I will be very interested in receiving any comments from Comox Valley residents, either to point out a business that I have overlooked, or to discuss any of the businesses I have listed. For you readers from 'afar', particularly business people looking for opportunity, there is lots to be had here, especially for setting up services for in-bound tourists, and in fact generating inbound tourists by offering vacation packages.
Thank you for reading. Come and visit us soon!
See my YouTube Vancouver Island North playlist here.
Randall Hawes
Contact me:





NAVIGATION:
HOME
BROWN PAPER TICKETS
is the Fair Trade ticketing company. No matter where you are, begin your search for a night on the town!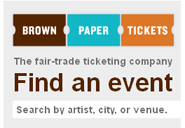 With 24/7 phone and web sales, Brown Paper Tickets is the smartest way to buy your tickets for your date!