Bobby McFerrin Rocks
Originally published March 25 2010
If you don't recognize the name Bobby McFerrin, you will certainly recognize his past hit song, Don't Worry Be Happy. Go ahead, give a listen. The song is over 20 years old and it is still an anthem for many all over the world. I run across people all the time who say, write, or post Don't worry! Be happy! He really struck a chord with humanity with that song. You just can't help bobbing your head to the beat.
Bobby McFerrin doesn't "give" a concert. You don't arrive, sit/stand for 2 hours, applaud, leave. You participate! He builds the show around the audience. The audience is the performance. He just guides them. Read this great blog post, The Bobby McFerrin Plan For Creating a Remarkable Business that was posted on Copyblogger. He truly is remarkable in his approach to music and to life.
He has figured out that music lives inside every one of us. We all live in a certain 'frequency'. We're born with it. It exists within every human, and probably a great number of animals as well. Watch this short video from the World Science Festival that is available on the TED website. It is incredible!
There are lessons to be learned from Bobby McFerrin, especially the most important one ...
Don't worry! Be happy!
Randall Hawes
Contact me:





NAVIGATION:
HOME
BROWN PAPER TICKETS
is the Fair Trade ticketing company. No matter where you are, begin your search for a night on the town!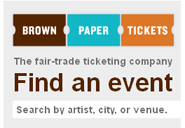 With 24/7 phone and web sales, Brown Paper Tickets is the smartest way to buy your tickets for your date!